Dear, guys – welcome back to Letters From Liz!
As a multi-fandom Kpop stan, I was well fed in the month of June, like, so well fed, i'm practically good for another couple of months in music. I don't know what made every entertainment agency decide that their groups would make a comeback in June, but ya girl is not complaining. Anyway, every week one of the groups I listen to made a comeback and thought it would be fitting to speak on them all in one post! So without further ado, let's talk about some Kpop comebacks, shall we?
On June 1st, Twice dropped their 9th Mini Album, "MORE & MORE" after a 9-month hiatus; their last mini-album, "Feel Special", was released in September 2019. A lot of anticipation was riding on this comeback, and many fans were excited to start off the summer with new music from Twice; I know I was! When the teaser photos were released, I was… not really impressed to be honest, like the whole "hippie" earth concept just felt poorly put together. The nature concept though is beautiful, and it's the version of the album I personally purchased for myself. In regards to the actual title track, I was actually kinda disappointed. It's catchy and it's definitely a different sound (which Twice has been consistent in doing) but from the teasers and all of that, the song just seemed like it was supposed to be… better?
The true star of the show is the b-sides. If anything, this album has some of the strongest b-sides Twice has put out. "Make Me Go" has that feel that I believe would be the perfect song for Twice if they were to ever officially make their U.S debut, "Sweet Summer Day" is such a perfect song to go out and enjoy the summer day with friends at the beach or at a block party, and "Oxygen"; she's lovely. Twice is known for having some of the best b-sides on an album, so I'm glad that aspect of their albums hasn't changed.
Rating: 7/10 – Would recommend, but first stream the b-sides of the album.
I apologize in advance if I come off way too bias with this, but Victon are my boys. So even though these boys have been preparing this comeback since their "Howling" promotions back in March, it wasn't announced until May 20th, two weeks before they were scheduled to come back. When I tell you I was in the middle of catching up with my Victon photocard collection and screamed that more money is now being spent on this group… but I was very excited! It was strange that I would want to come back just three months after releasing their 6th Mini Album, "Continuous", I was glad that these boys are busy making new music for comebacks!
So about the actual song: Mayday is their 2nd Single Album that came out on June 2nd. After seeing the teaser photos and music video teasers, I didn't understand what the concept was. The colorful, "Venez" version is shot on a beautiful Spring scenery in colorful suits, while the dark, "m'aider" version was black and white and… dark. But! the music video doesn't showcase any of that; in fact, they are in somewhat combat attire, which I actually wish was featured in their physical albums, let's be real. To not make this a novel-length review, "Mayday" is an attempt (a pretty successful one statistic-wise) at a more dark, aggressive, hip-hop influence sound for the group. With Victon testing out the waters in previous albums, ("New World" and "Nightmare") it was about time that they would use that sound for a title track and oof, she's a banger. Sure, the song feels very experimental and some of it feels missing, but for what it is, it's a strong title track. The music video is honestly so fucking pretty, like the millions of views on their channel for this M/V? They're from me, y'all.
Is she my favorite title track? No. Again, there's a lot of room for improvement for these boys when it comes to experimenting with this genre, but it's really good for a starter song. Hanse and Seungwoo slay this song because they are both the rappers in the group and this is a rap-heavy song, but the line distribution could've been way better… if the song had a real chorus. I mean, "Fire off a mayday, but I can't wait" is catchy and she's been living in my head for the past month, but the chorus could've been used for members getting some lines.
Rating: 9.5/10 – If you're a fan of the more aggressive & dark concepts of K-pop boy groups and want to discover a new group, this is the song to start off with. Also, "I'm losing all my sleep on you" as the opening line sung by Seungsik? You're welcome.
Y'all, IZ*ONE is coming back to back with the albums to let the K-Pop industry know that the scandal of the Produce series will not hold them back! They officially came back from their 10-month hiatus with their first full-length album, BLOOM*IZ, back in February and now they are back four months later with their 3rd Mini Album, Oneiric Diary. Their title song, "Secret Story of the Swan" is definitely a different title track than the others and I'm glad because their title track for their last comeback was way too similar to their iconic song, "Violeta". This song somehow felt like it came out of nowhere, but these girls really slayed this comeback song! It's definitely a song (and album) you have to listen a couple of times before you get the feel of it, but IZ*ONE doesn't disappoint when it comes to these different concepts they got going on! It's not my favorite title track, but it's definitely an improvement from their last comeback for me!
Rating: 8/10 – Again, it's one of those songs you have to listen to a couple of times before you get into it, but the chorus is so unique and catchy! Also, all of the songs on the mini album are so different from one another. One of my favorite b-sides from the album is "Merry-Go-Round" – she's a couple little bop!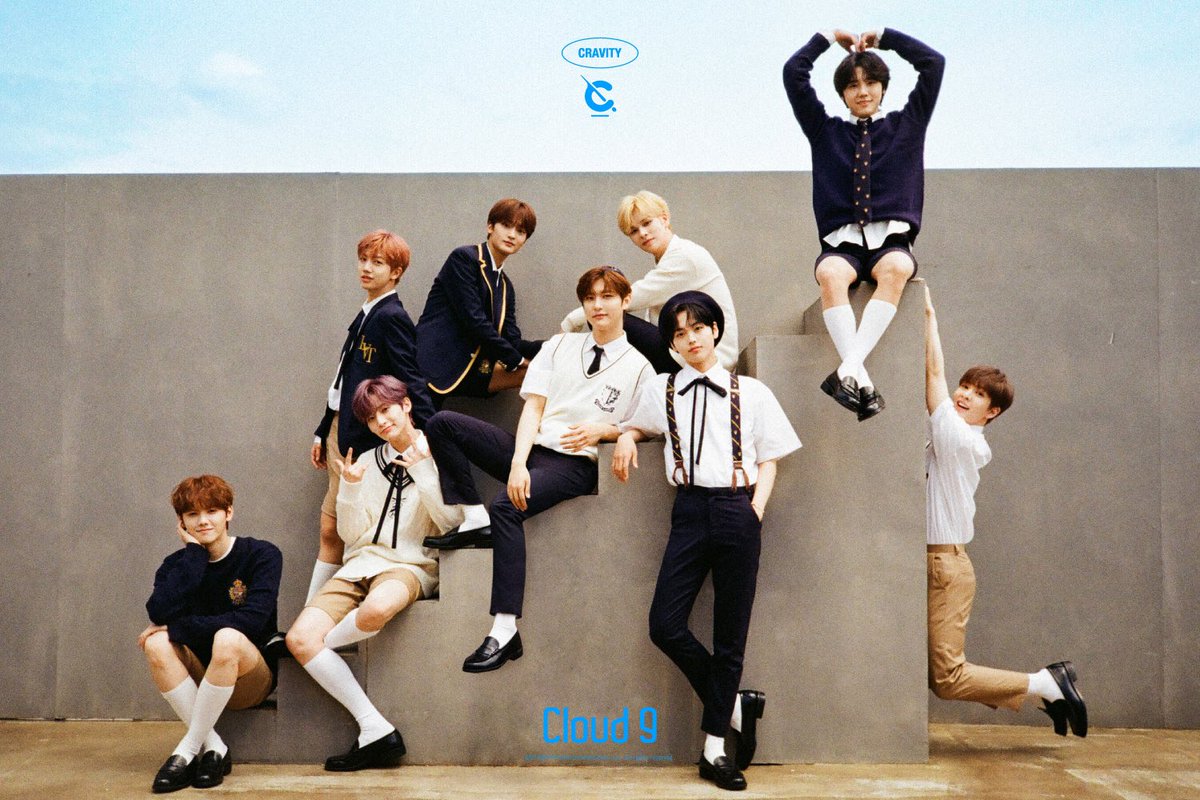 This song and music video are the cutest thing ever! So, Cravity made their comeback in the middle of June with a song from their debut album, "HIDEOUT – Remember Who We Are – S1". It was definitely a different type of comeback for K-Pop; most comebacks are accompanies by a digital album or a whole new mini album, but Cravity decided to comeback with a song from their debut album that came out 2 months ago. If anything, it's something that westernized music artists do; artists release a couple of singles from their album every couple of months before they release anything new. In Kpop, most comebacks are months a part with typically a new title track accompanying their new mini album or new single album. Anyway, this song is the perfect b-side that showcases their refreshing side. These boys are the cutest ever, and this song an concept fits them flawlessly which is crazy because their debut single, "Break All The Rules" was the complete opposite yet they fit that concept so good as well. Yes for duality.
Rating: 6/10 – It's not my favorite track of theirs and I probably won't binge listen to it, but the concept and music video are too cute to pass.
Weki Meki's "OOPSY"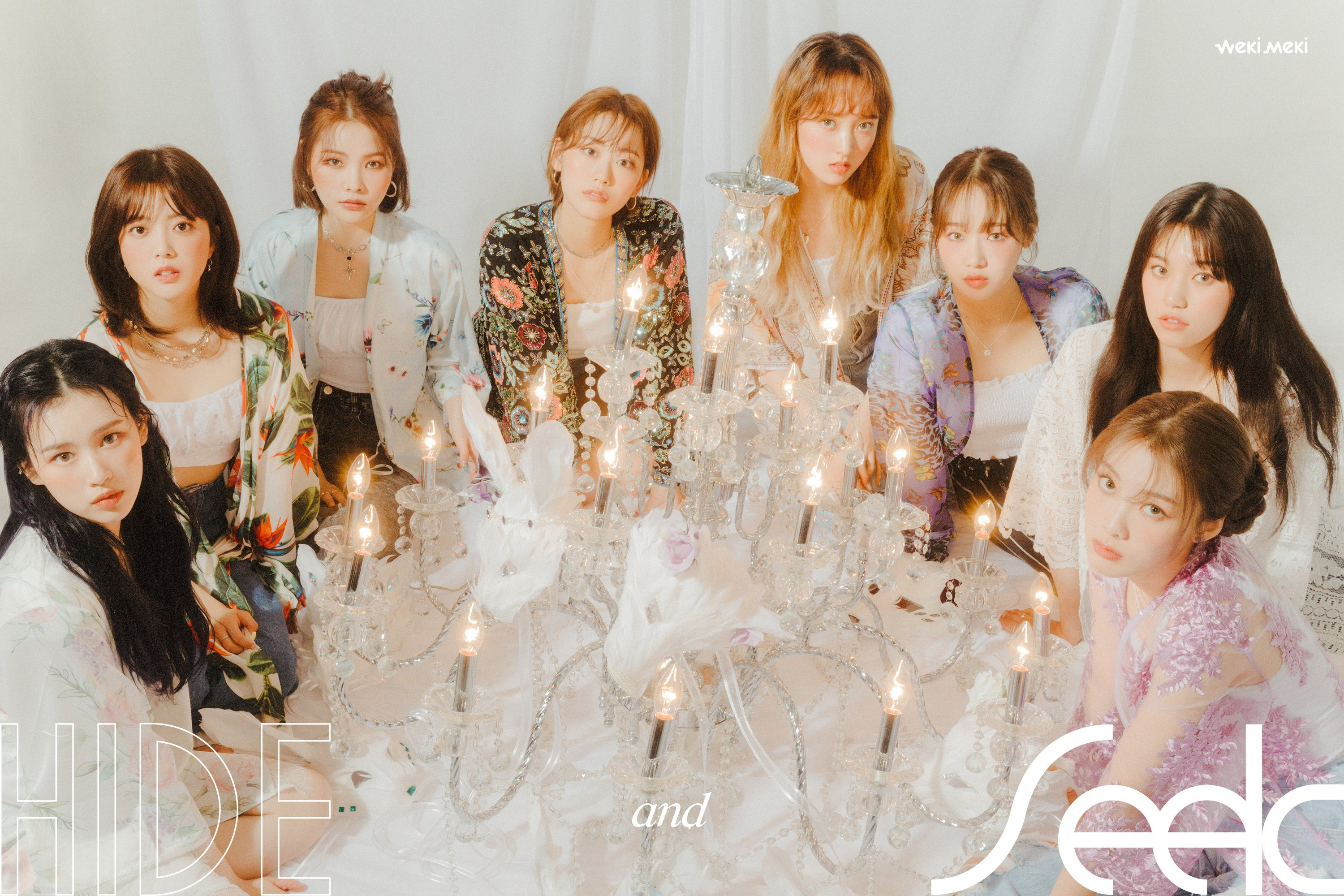 Let's all give a round of applause for Fantagio for giving these girls another mini album after two single albums because these girls deserve so much better. Anyway, in the month of loud comebacks from huge groups, Weki Meki came back with their 3rd Mini Album, "Hide and Seek" – and I'm pretty impressed with it as a whole. For the title track, it was… okay? I mean, Weki Meki had better title tracks in my opinion & the b-sides on this album are so pretty and different than what they've done in the past whereas "Oopsy" just sounds like a repackage of their previous comebacks. Don't get me wrong, she slaps, just not as hard as their previous title tracks. I'm just glad that these girls are getting more opportunities to put out more songs at a time!
Rating: 6/10 – probably won't listen to the title track that much, but I might give the album as a whole a few listens here and there. Weki Meki fighting!
Blackpink's "How You Like That"
After making their comeback in April 2019 with "Kill This Love", Blackpink finally made a comeback with their pre-release single, "How You Like That". They are expected to make two more comebacks, one being for the release of their long-awaited full-length album. When the news of them finally making a comeback was announced, everyone was literally on the floor anticipating this release, as was I! Blackpink was the second ever Kpop girl group I listened to, and I wished YG treated these girls like a normal group that comes back once every couple of months, but here we are! So let's talk about this comeback!
So, "How You Like That" is a classic Blackpink song. It's a very hip-hop/dance influenced song with some strong ass rap lines, some great vocals from Rose & Jisoo, some adlibs from Jennie and Lisa throughout the song, and then a dance break. It's what we heard in their last two comebacks, but if it works for them, it works for them! I'm a kpop listener that likes when groups try things differently though, so although this song slaps and my favorite part is Lisa's raps and the talk-sung chorus, I wasn't…blown away? Like, what made me like the song more was definitely the music video; the styling and visuals are honestly everything, but I just wish the format of the song was a little different!
Rating: 7/10 – Not my favorite title track, but still a bop. Hoping Blackpink will revamp their sound in the next comeback though!
When I tell you I was waiting for this day to finally come! So Seungyoun (Woodz is his stage name) released his first mini-album to end off the month right; EQUAL in a nutshell, DID NOT DISAPPOINT. This album has to be my favorite release of the month just because the entire album is a masterpiece. Every song hits hard, "LIFT UP" sounds like it could be a straight-up rock song, "Accident" will give you goosebumps due to the insane vocals this man has and displays, and "BUCK" will literally turn you the fuck up. The title track, "Love Me Harder" is a song I have not heard come out on Kpop since I've been a fan, and I instantly fell in love with it as soon I heard it. It's no surprise that Seungyoun released some fire tracks, because he's done so in the past! To know that he wrote all of the lyrics to the songs and co-composed them as well, you know he's just crazy talented. I'm so proud of him because this is his fourth time debuting, and I really hope that his talents and passion really shines this time!
Rating: 10/10 – Period. Fire album, fire title track, fire concept, I'm so happy with this debut!
And that's it on my end! I know there are so many other groups that debuted or came back this past month, so also please show them some love! Here's to more comebacks in the future! Kpop is exciting, y'all.