Dear, guys – welcome back to Letters From Liz!
The end of the year means that it's time to countdown my favorite albums that were released this past year! I feel like withi the kpop community alone, there was so many new releases and amazing albums, and it's honestly so hard to just pick five of my favorite albums. But, let's just jump right into it because oof, I have a lot to say about my favorites this year!
5.) "SAVAGE" by aespa
So, aespa has been on my radar for the past year, specially since they released their comeback track "Next Level" earlier this year. I personally wasn't crazy about their debut, but once I got into them, I realized just how insane their vocals and concepts were. For a little introduction of these girls, aespa is a 4-member girl group under SM entertainment that debuted in November 2020 with their debut track called "Black Mamba". Their whole concept is this alternate universe futuristic type of thing, but these girls honestly slay it and do it well! They finally released their first official mini album, "Savage" back in October and wow, this album is so good! I had to buy the physical copy because the concept of this album was bomb and the tracks on this album were so good! It's different than your typical girl group type of song, but these girls honestly fit each other so well and I'm so excited to see where these girls go next!
4.) "BLAZE" by DO HANSE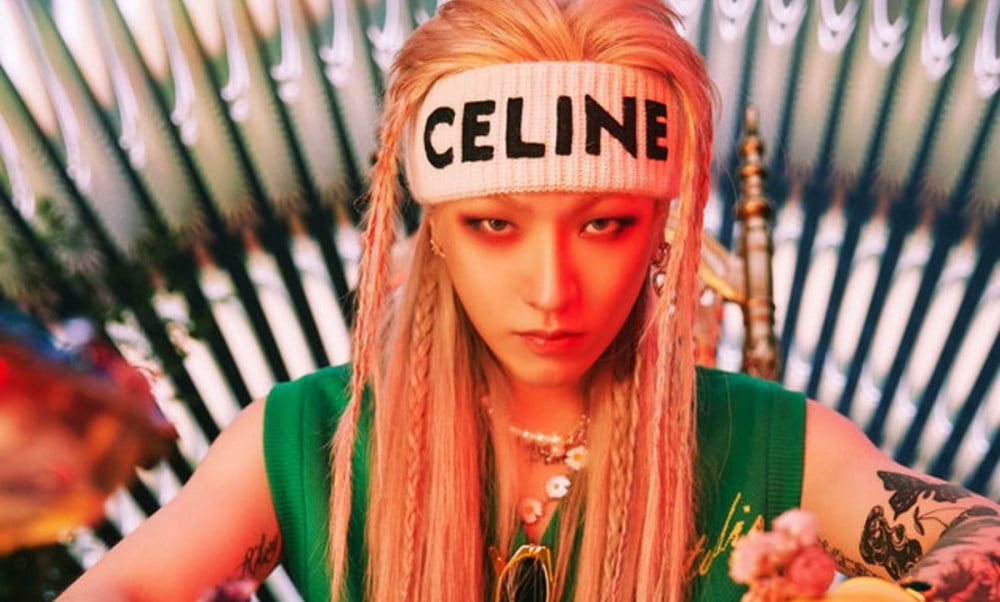 Another year, another Victon member making their solo debut! This year, our main rapper of the group, Hanse, made his official solo debut with his first album called "BLAZE". Now, I didn't know if I was going to like this album because I'm such a sucker for a vocal line, but I was honestly so surprised to vibe with the title track, "TAKE OVER". It's definitely such a different type of kpop song, and honestly I'm so proud that Hanse got the chance to create music the way he wanted to since he's such an interesting and eccentric type of kpop idol. The other tracks on the album showcase such a variety of music genres and bops; this album easily became one of my favorites of the year, hands down!
3.) "The Chaos Chapter: FREEZE" by Tomorrow X Together (TXT)
Prior to 2021, I was not a TXT fan. Their music didn't really get me going, so when it was announced that they were coming out with their 2nd full-length album, I was pretty indifferent about it. But when it was finally released, my heart was a mess. The title track, "OX1=LOVESONG (I Know I Love You)" was so amazingly good and completely brought me back to my teenage emo days! The styling as amazing, the vocals were out of this world, and these boys really made it clear that they are the 4th generation kpop boy group. To give some context about these boys, they are a 5-member group under BigHit Entertainment; the same company that BTS is under! TXT debuted back in March 2019, so they are no strangers to the industry! This was the album that really got me into these boys, and now I am complete TXT trash; a MOA! The rest of the album was also amazingly good; it was on loop when it was first released and since then, they have been releasing other comebacks that are just as good and I'm so beyond sorry i for sleeping on this amazing group. If you've been skeptical about listening to TXT, this is the album that will get you into them for sure!
2.) "VOICE: The Future Is Now" by Victon
My boys, y'all. On the blog, I wrote a music review about this release back in January when this gem came out to all of us. Victon released their first full-length album and it's honestly just full of songs that truly describe Victon perfectly. It was their first ever album to have solo tracks in the track-list, and it showcased such a variety of music genres, as well as writing among the members. Their title track, "What I Said" still reigns supreme. It was such a different direction the group went, and to this day I'm still hooked to the instrument behind the song and just the amazing charisma each member portrayed within the songs. Again, every b-side on the album showcased a taste to the "new Victon sound", but also paid homage to the sound Victon started out with 5 years ago! Since then, the group have been doing some solo activities and Seungwoo enlisted in mandatory military, but for their 5th anniversary, they released a song for the fans and it's honestly the cutest thing ever, like I cried. Nevertheless, I am so glad the boys had an opportunity to release a full length album and have so much creative direction for the album, and I hope to see them have a physical album release soon!
1.) "Only Lovers Left" by Woodz (Seungyoun)
Man, if there's anyone that comes out with a banging album, it's Seungyoun! Last year, his debut album under his stage name Woodz was my top favorite album of 2020, and since then, I didn't think there was going to be an album to top it. His previous releases were just okay, but when this album came out back in October, I was literally in love with this entire album. The title track "Waiting" wasn't my favorite, but the rest of the album is so fucking good! This is the first time he released three fully English songs, and with Seungyoun's versatility and writing abilities, all the songs had that "mmph" factor in them! Although Seungyoun isn't my ult bias anymore, he holds a special place in my heart, and his music always reminds me that I stan talent and only talent. If you want to get into some Kpop that doesn't feel like Kpop, definitely check out this album and Seungyoun in general! He doesn't disappoint.
That's all for now! I can't wait to see all the new rookie groups that yet to come out, and so excited to see how much this lineup changes! So many new girl groups are coming out within this time period, so perhaps they'll be more girl groups on this list next year! Until the next one!