Dear, guys – welcome back to Letters From Liz!
So this time last year, I completely indulged in the fact that I was complete Kpop trash, and although I was still very shy about speaking about it, she's fully exposed and she has some groups to talk to y'all about. 
Last year, I introduced some veteran girl groups and girl group rookies that I was into, and a lot has changed since then. This girl went from "I only listen to girl groups" to "I literally listen to everything that's Kpop related." In this post, we'll be talking about some veterans, some rookies, some updates to on who my ultimate bias groups are, and all that jazz.
Disbanded Groups
UNIQ:
These boys deserved better, in all honesty. These 5 guys are (were) UNIQ, a Chinese-Korean idol group under Yuehua Entertainment. While Yuehua Entertainment was mostly a Chinese idol agency, UNIQ's Korean members were originally from YG Entertainment. By age order, the members were Yixuan, Sungjoo, Wenhan, Seungyoun, and Yibo. Both Sungjoo and Seungyoun were Korean trainees under YG Entertainment, while the rest of the group were solely under Yuehua Entertainment. UNIQ debuted back in 2014 with their debut single, "Falling in Love", and then "EOEO" following it. UNIQ gained some commercial success in Korea, but more so in China. Because the group was under the Chinese idol agency, many of their promotions were in China, as well as their success. With a couple of comebacks here and there, the group quietly disbanded as the years went on, and the members of the group went their separate ways. While Sungjoo, Yixuan, and Yibo went on to acting, Wenhan went on the Chinese spin-off show of the Produce series, Idol Producer and went on to debut in the project group to come out of that show. As for Seungyoun, well, I think we all know what happened after his days in UNIQ.
Bias: Within the group, even after being completely biased with Seungyoun, Seungyoun always stood out to me whenever I watched interviews and music shows of the group. Seungyoun is (and always will be) "the vitamin". He always had a fun and bubbly personality and always mesh well with his members. It's crazy to see him on the maknae line (the youngest of the members in the group) because in X1, he was on the hyung line (meaning he was one of the oldest members in the group) so it's cute to see how much of a baby he was 6 years ago.
Bias Wrecker: 

Yibo, hands down. He's just so fucking gorgeous; I can't even fathom how fucking pretty he is. Also, as the main dancer, he transforms into a completely different person. Although he's not so much in the idol scene anymore,

from what I hear, he's a pretty damn good actor. 
X1

:
My sad heart, anyway – X1 will always hold a special place in my heart because they were the first boy group I ever fully fell in love with. X1 was an 11-member group that debuted after Produce X 101 created the group from the final 11 rankings in the show. They were under Swing Entertainment, and they debuted late 2019. The 11-members were Seungwoo, Seungyoun, Wooseok, Yohan, Hangyul, Junho, Dongpyo, Minhee, Eunsang, Hyeongjun, and Dohyon. Their debut song, "FLASH" was one to truly remember not because of how good it was, but because it broke an immense amount of records on music charts, music shows, and literally if they haven't disbanded so abruptly (seriously still so hurt by that) they would've been the next big Kpop group in the industry. What made this group so unique was that their chemistry was insane, and their talent was out of this world. Being a follower of what was the Produce series, I was never truly satisfied with the final line up of their groups because so many other talented trainees got robbed from it, and more so "visuals" were chosen to be members over talent.
X1's choosing was definitely the best one they had which is crazy because they believe that the producer of the series rigged votes and whatnot? That's another story for another day. Anyway, this group was a lot of my firsts: boy group, physical album purchase, an obsession really. As a One-It forever, I will always be sad about the disbandment but will support the guys in whatever they do within their own companies. As of now, Seungwoo is back with VICTON, Seungyoun is doing some solo activities (give us a mini-album; please and thank you), Wooseok and Yohan are doing some acting activities, Hangyul and Dohyon are now a duo group called H&D, Junho is in a pre-debut group called W Project 4, Dongpyo is in a pre-debut group called DSP N, Eunsang has done some solo things within his company and Minhee & Hyeongjun are debuting in a new group with 7 other members within Starship Entertainment called Cravity.
Bias: You know a group is hella good when you find your bias changing every other week. When X1 was just formed, I instantly gravitated towards Seungwoo because his vocals on PDX101 were insane, his charisma and sexiness on-stage were oof, and he's a 94 liner! In the show, many people didn't notice Seungwoo at first because I mean, there were 101 guys in this competition, but what instantly got me was his performance of "U GOT IT" on the show. But then something happened…
Bias Wrecker: … CHO SEUNGYOUN WRECKED EVERYTHING. Seungyoun, like I mentioned earlier, has a very infectious personality. Even on PDX101, he was known as the person who lightened up the mood when things got too serious or whenever the other trainees struggled. When X1 started their promotions for their debut, he just always stood out to me, so when I started to dive deeper into his career prior to X1 and PDX101, I found out he used to be in an idol group called UNIQ and that when the group quietly went their separate ways, he began his solo activities under the name WOODZ.
Rookies:
Cignature

:
So, one thing I like about Kpop is discovering rookie groups from smaller companies because, well, we need to give every group in KPop a chance! One group that stood out to me the most thus far was Cignature, a 7-member girl group under J9 Entertainment. They debuted earlier this year with their debut single "Nun Nu Nan Na". The members of Cignature are Chaesol, Jeewon, Ye Ah, Sunn, Seline, Belle, and Semi and although they are fairly new and I don't have a favorite or bias within this group, I look forward to their career because their debut single stood out the most to me thus far. A lot of people compared the song to a concept that Red Velvet would do because it showcases a lot of different genres within it, and honestly for this group to execute that concept so well as rookies and perform like season veterans already, I hope to see more of this group in the future!
MCND

:
These boys better become successful as their career goes on because they are super fucking talented! So who are these boys? Well MCND, or "Music Creates New Dream", is a 5-member boy group that debuted earlier this year under TOP Media. The members of MCND are Castle J, BIC, Minjae, Huijun, and Win. Although they had a pre-debut single come out back in January, their official debut single is called "ICE AGE" and oof, it fucking slaps. This group is very hip-hop influenced, and if there's one thing every single member of this group is good at, it's dancing. For a rookie group, they dance more neatly and synchronized than most veteran groups nowadays, which says a lot about their work ethic and talent. They are the next boy group to come out of their company after UP10TION, a 10-member boy group that debuted in 2015, which PDX101 constant Lee Jinhyuk and former X1 member Kim Wooseok were a part of. TOP Media had a shitty way of promoting them, so I hope they don't disappoint fans with their new group!
CRAVITY

: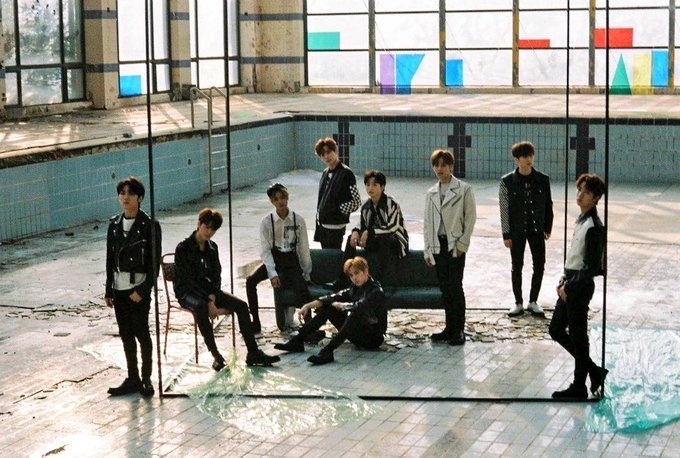 CRAVITY are babies, y'all. This 9-member boy group debuted just a couple of weeks ago under Starship Entertainment; they are MONSTA X's juniors. The members in CRAVITY are Serim, Allen, Jungmo, Woobin, Wonjin, Minhee, Hyeongjun, Taeyoung, and Seongmin. Very much like Victon and UNIQ, I found out about this group because of some of the members of this group being both in X1 and on Produce X 101, the popular survival show that X1 was formed in. Both Minhee and Hyeongjun were former members of X1, while both Wonjin and Jungmo were contestants of PDX101, and both were eliminated on the finale of the show. Ultimately, I really liked Wonjin in the series, so I'm so happy he was able to debut in his own company. Their debut single, "Break All The Rules" is a certified bop. It's kinda crazy how crazy their concept matches this group, but the group is full of babies? When groups are able to be versatile like that (which shows in their debut album), then you know they're going to be crazy-successful. I'm already obsessed with these boys.
My Ultimate Bias Groups:
ITZY:
Last year, I included these talented ladies in my Kpop rookies post back when they were just a 2-month-old rookie group and only had their debut single "DALLA DALLA" out to showcase their talents. I will say this until the day I die: DALLA DALLA has been one of the greatest 4th-generation debut tracks I've heard thus far. They have a concept that is uniquely their own, and all these girls fit it so well. After their debut, they came back during the summer of 2019 with their 1st mini-album called IT'Z ICY with their title track, "ICY" and they recently came back with their 2nd mini-album called IT'Z ME with their title track, "WANNABE". Back in January, I actually went to see them live in concert when they were touring the U.S and if that didn't seal the deal of them being my ultimate favorite girl group, then I don't know what did. 
Bias: When I first wrote about them last year, I really only knew Chaeryeong from being on Sixteen, the survival show that JYP Entertainment had in order to create (the biggest Kpop girl group now) TWICE. But as they made more comebacks and I began to follow them a bit more, my bias now is Yeji. She's not only the leader of the group, but she has crazy dancing skills and amazing vocals. This chick eats CDs, y'all. She's also an idol that has a duality in her; she could be very girl crush/badass on stage, but in interviews and variety shows, she's very girly and very cutesy.
Bias Wrecker: Ryujin will forever be a bias wrecker, just how Chaeyoung from TWICE will always be my bias wrecker in that group. They both actually give off the same energy; not only are they both main rappers in their groups, but they also have — how do I say this — big dick energy. They will steal yo' girls, guys. While they both can be very girly and cute off-stage, they really have charisma and badass vibe that stand out from the group. In particular, I'm so glad that with their recent comeback, she got the recognition she deserves because oof, she's killing it.
Favorite Comeback: ITZY's most recent comeback is hands down their best yet. I feel like with this last comeback, they fully established their brand and their concept, so MIDZYS (their fandom name) are only gonna expect this level of legitness in the future. Next!
VICTON:
If you know anything about me, you know how obsessed I've become whenever it comes to Victon, y'all. Like UNIQ, I discovered VICTON when both Seungwoo and Byungchan participated in Produce X 101, and with the fans they had throughout that show, they were able to bring them along to their group which in all honesty VICTON won PDX101 over anyone else. Before the show, VICTON was rumored to be disbanding after the relase of their single album, Time of Sorrow because they were not getting the success the company hoped they would get. For VICTON, PDX101 was their last resort, and the number of fans and the amount of exposure they had from the show resulted in them becoming one of Kpop's up-and-rising groups in the industry, with them breaking their own records and winning music shows with their comebacks. So, who are they?
VICTON is a 7-member group under Play M Entertainment, formerly known as Plan A Entertainment, back in 2016. The members are Seungwoo, Seungsik, Chan, Sejun, Hanse, Byungchan, and Subin. They debuted with their (amazing fucking) 1st mini-album, Voice to New World and were first known to be a boy idol group that was refreshing with some playful hip-hop influence in their music. If anything, they were not afraid to be a boy crush group rather than a sexy one. They've released 6 mini-albums and 1 single album in the duration of their careers; READY, IDENTITY, From. Victon, nostalgia, Continuous, and TIME OF SORROW.
Bias: Y'all, picking a bias for this group is nearly impossible; I'm literally up to my 4th bias change and it just rotates regularly. Of course, when I started to get more into the group, Seungwoo was my bias because he was also my bias in X1. But, once VICTON started to promote as a six-member group while Seungwoo was away, Seungsik became my bias. Then as I got more into the group, Sejun and Subin started to become my biases as well. So, I guess it's safe to say I have 4 of them in VICTON. Even though it's hard to choose, I do find myself going back to Seungsik. His duality is insane; he could be "Uwusik" one minute then "OOFsik" the other. He's also the main vocalist of VICTON which says a lot; all of these guys could sing all crazy, but Seungsik can sing. If you wanna hear some Solosik, his single "I'm Still Loving You" is just all the chef kisses in the world.
Bias Wrecker: Out of all the wreckers in this group, Sejun is always the top contender to be my bias wrecker. Sejun is… eccentric. He's definitely weird in his own way and he's not afraid to be real on and off-stage. Many idols (I've noticed) are still very insecure not looking perfect 24/7 in front of their fans even when they are off-stage just chilling, but Sejun has proven time-and-time again on V LIVE that he does not give a shit and will just come as he is, which all idols should be like! Also, Sejun is a visual that is a lead vocalist, or what I like to call "second main vocalist". We stan main vocalists, y'all.
Favorite Comeback: Although I officially became a VICTON fan when they came back with nostalgia, my favorite era of theirs has to be their 4th mini-album, From. Victon, which their title track was "Remember Me". This title track out of all of them feels the most like VICTON; it still had that freshness that they had with their previous comebacks, but it also showcased a more mature side of the group as well. That mature side (to me) was the start of their more mature comebacks, which they all been since that. But everything to the music video to the album itself was just so personalized and well-balanced. She's also the one song I know all the Korean lyrics to because, well, I'm trash.
And that's it! Sorry for this post being literally so friggin' long, but I really do enjoy writing and sharing my knowledge on the things I really enjoy in my life! But other than that, I hope you guys give some of these groups a chance; they've all worked hard and sacrificed their lives to make their dreams come true, so if you're experimental with music genres, try listening to some Kpop, y'all.
Thank you for coming to your favorite Kpop-Trash writer's TED talk.