Hey, guys – welcome back to TNTH!
I'm aware it's April 3rd and I'm talking about March things. Looking back at the past month, I realize that with the time I spent away from the blog and social media, I spent it learning new things and finding things that I really enjoyed throughout the month. So, without further ado: here are some of the things I found interesting/unique/awesome in the last month.
1.) Colson Whitehead's The Underground Railroad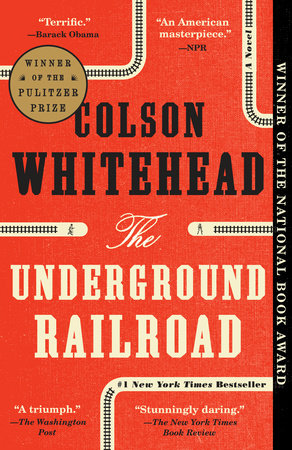 This book has recently been added to my collection of books on my bookshelf so this isn't included in next week's post, but one of my classes this semester required us to read this book and when I say it's so good, it's amazing. The story follows 17-year-old Cora, a runaway slave who decides to escape her plantation by taking a literal train called the Underground Railroad. When she finds herself in each city destination, she comes face-to-face with a horrific time in history that historically wasn't possible in 1850. Of course, Whitehead's purpose of doing so explains more than it being a storyline; it portrays how American history is told and how the ideology of America really is just this big ole delusion that we still believe isn't really there to this day. It's a great book that will teach you a lot of history you weren't taught in grade school during social studies. I recommend this book to everyone. Seriously.
2.) Original Gummy Factory Sour Gummy Worms
Okay, I don't know where these gummy worms came from, but my campus started selling them in their vending machines and I've been hooked on them ever since. They're super sour which I'm not even a big fan of! These gummies just taste really good and since I started getting them, I've been eating them on the way home from class at night and they always hit the spot. Haribo who?
3.) Fat Boy
I swear I'm not a cat person! Ever since we brought home Babygirl, I began to gain a liking for cats, and when I saw this cutie at my job a couple of weeks ago, I instantly fell in love. (p.s: he's my screensaver). Fat Boy is a 6-year-old black cat that lives at my mother's workplace. He's the sweetest and friendliest cat I've ever met in my life, no joke. He loves attention, he loves people, and he loves to be petted. It's crazy to see how different he and Babygirl are; she's a bit more introverted and skittish and doesn't trust people until you show her you can be trusted while Fat Boy is friendly to literally everyone. It was really hard to leave and go home that day because I just wanted to spend more time with him!
4.) Chloe x Halle's album The Kids Are Alright 
You might know them from their YouTube covers or you might know them as Beyonce's prodigies, or you might know them as Jazz and Sky on Freeform's Grown-ish. Wherever you heard them from, you know them from somewhere, and they are a force to be wrecking with. Chloe x Halle, both sisters but not twins, debuted their first studio album two weeks ago and I could confidently say this is one of the best debut albums I've heard in a really long time. Almost every song on the album could be on the radio and their sound is so unique and grown. Plus, you can definitely tell they get their inspiration from Beyonce herself. At the moment, I am highkey obsessed with "Hi Lo", "Everywhere", and "Happy Without Me" and I know once I begin to play their songs out I'll be back on their album on Spotify to gather some new favorites. It's definitely an album people should give a chance and listen to.
5.) "Dumpster Diving" YouTube Videos
One night, I was surfing through the suggestions section of YouTube and came across this. Now I don't know what the fascination is with these videos, but I think it's the fact that I didn't know people actually went to department stores to "dive" in their dumpsters and pick up thrown away products. I was even more shocked that many of these products were perfectly fine and untouched yet thrown away in the garbage. I've seen a couple of these videos and it's insane how many things people find within these dumpsters. It seems like many dumpster divers target Ulta Beauty stores the most, but it's crazy to see how many other department stores really just throw out perfectly good products. I mean, have you ever heard of donations? Like an entire box of flip-flops would've been beneficial to those who can't afford shows in the first place. These videos are just intriguing to watch and for a straight week, I was hooked. I still am; who am I kidding?
That's all for now! Hopefully, April introduces me to a lot of more favorites!
-Liz. (: