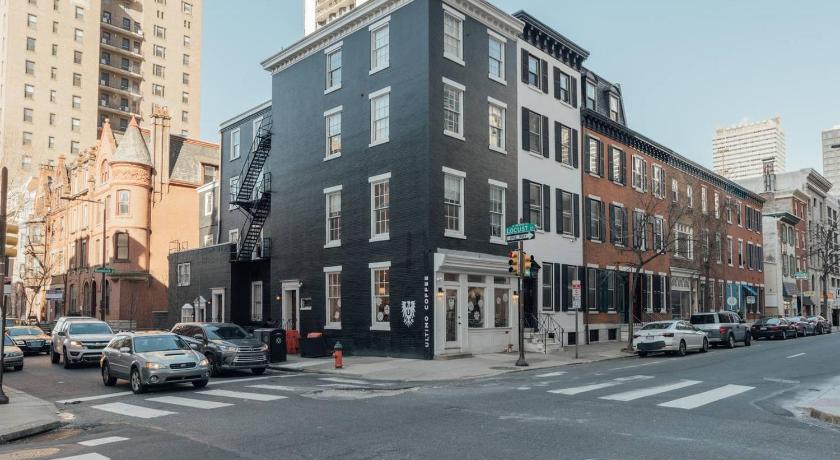 A young, somewhat-couple; a man with his dreadlocks tied up in a ponytail in a black Parka, and a woman with curly brown hair blowing in the wind in a navy blue pea coat. The man, Micah, is carrying a overnight bag while the woman, Rosie, is rolling her bag on its wheels. The wind is crisp and cold, and Rosie's face is pink from the brisk air.
They turn the corner and walk towards a house down the block. Rosie looks at the house in front of her; it's somewhat nostalgic for her to be back. Micah, on the other hand, wears worry on his face. It's his first time being in Philadelphia meeting one of the most important people in Rosie's life: her mentor.
Rosie: It's so trippy to be back here.
Micah looks at Rosie. He instantly calms down. She somehow looks even more beautiful in the cold weather.
Micah: Are you nervous to be back?
Rosie: I mean, I try to avoid Philly at all costs… just reminds me of too much.
Micah ponders Rosie's words. He knows how rough Rosie had it when she lived in Philly; if anything, she knows these streets better than anyone in this neighborhood. Rosie was a runaway teen; she was rebellious and lived on the streets with other teens her age. She followed the wrong crowd, had a boyfriend that pimped her out for money, and he was abusive to the point she had to secretly contact the police in order to get away from him. Her mentor, a detective from the Philly Police Department, took her in as his own after losing his own daughter at a young age due to a kidnapping. Since then, Rosie sees him more so of a parent than her actual, biological parents… that agreed to emancipation when she turned 18.
Micah's train of thought breaks when he hears Rosie's voice.
Rosie: Are you ready to go in, or…?
Micah: *back to reality* Yeah, let's go in.
They walk up the front stairs and knock on the door. A man in this mid 40's opens the door and sees Micah and Rosie standing there. He smiles.
The two young adults settle in on the sofa while the older man comes walking out with two mugs of hot chocolate.
Rosie: You didn't have to go out of your way to do this, Hudson.
Hudson: Hey, it gets cold during these winters, and I know you guys have been traveling for hours!
Rosie: But you've never been the hot chocolate kind of guy; you're getting soft on me?
Hudson laughs; Micah watches the interaction with Rosie and Hudson; he's never seen Rosie look so… at home. Sure, her past haunts her in Philly, but she seems like whenever she talks to Hudson, she seems safe and comfortable. He's happy Rosie has someone she can come to if she needs older, wiser advice.
Hudson: Not soft, just trying to quit coffee cold turkey.
Rosie: Ahhh, good. The way you would just gulp them down was… concerning.
Hudson sits in the lounge chair across from Rosie and Micah. He looks at Micah how a detective would look at a suspect; trying to read Micah and his motive for his actions. It leaves him mildly uncomfortable, but he's here for Rosie.
Rosie: *changes subject* So, Hudson this is Micah; Micah, this is my mentor, Hudson.
Hudson: *coldly* Nice to meet you, son.
Micah: You too, Mr. Hudson. Rosie's told me a lot about you.
Hudson: *jokingly* Probably all embarrassing things knowing Rosie.
Micah awkwardly laughs. This is just as bad as if he was being introduced to her actual parents.
Micah: So, what do you do for a living, Micah?
Micah: *fidgets with his fingers* I, uhm, do some sound board stuff for a graphic design company.
Hudson: Oh, an artsy friend; that sounds interesting!
Friend. Micah cringes at the word as soon as it's said. Did Rosie not tell Hudson anything about him prior to this visit? The reason why he came along to this visit with her in the first place? Sure, they're still friends but… not in the sense Hudson may believe.
Hudson takes a sip on his hot chocolate and places it on the table.
Hudson: As much as I love visits from you Rosie, I know there's most likely a reason why you came, especially if you brought your friend along. *to Micah* Are you dating Rosie?
Rosie: *defensive* Gosh, no, Hudson!
Micah's mouth tightens: ouch.
Rosie: Micah is my best friend… we've been best friends throughout most of college and I just wanted him to come and keep me company while I'm here.
Micah looks at Rosie confused. Hudson immediately laughs.
Hudson: Micah just gave you up, kid.
Rosie rolls her eyes at Micah. Doesn't he know that Hudson literally reads people for a living? Rosie takes a deep breath in defeat.
Rosie: Okay, so I do have something to bring up since we're on this topic…
Rosie immediately looks panicked, and Micah, without thinking twice, places his hand on Rosie's lap to calm her down. She takes a deep breath.
Rosie: … I'm pregnant. Almost three months.
The room is silent for longer than they expected. Micah knows he's playing the role of "father-to-be" to convince Hudson that this child is his and hers, and not from an asshole that used to abuse Rosie while dating her. Rosie mentioned that Hudson got involved and almost lost his job for arresting Prescott out of jurisdiction, and of course, Prescott's family did everything they could to get Hudson locked up for "injustice", even if Rosie had called him one night to pick her up after a huge fight with Prescott; a busted lip and a ton of bruises later. Micah is literally at a loss for words.
Later into the night…
Micah wakes up from the sofa bed and stretches his back out; Rosie is in her old room with her twin-size bed and he insisted she sleep on that instead of with him on the sofa bed. He gets up, now wide awake, and walks into the kitchen. He nearly jumps back when he sees Hudson sitting in the dim lighting, drinking coffee, reading that day's newspaper.
Micah: I'm so sorry, Mr. Hudson, I was just–
Hudson: Micah, please; just called me Hudson.
He gestures to pull out the chair to sit next to him. Micah slowly walks and accepts the seat.
Hudson: Don't tell Rosie that I'm drinking coffee; sometimes you just need it.
Micah: Yeah, of course.
As Hudson sips his coffee, he points the bag of cookies towards Micah, offering to take some. Micah accepts and grabs a cookie.
Hudson: So, you and Rosie, huh? Having a baby…
Micah: *nervous* Yeah…
Hudson: I have to be honest, I'd hope children would be something Rosie would have later in life, but I mean, things happen, and I'm happy for you both.
Micah: Thank you Mr– … Hudson.
Hudson: *jumps the gun* Are you guys living together? Dating? Providing for her? I mean, I like you son and you seem like a good kid but… listen, I know Rosie–
Micah: *defensive* With all due respect, I really acre about Rosie and before anything else, she's my best friend. Sure we started dating and did things unconventional but… I really do care about her and I will do anything for her and h– our baby.
Micah hopes that Hudson buys the story, but then again… it felt so natural for him to talk about Rosie the way he did. It's no doubt in his mind that he loves her and will care for her and her baby no matter what.
Hudson intently looks at Micah, and he takes in a deep breath.
Hudson: This isn't my place to tell you Rosie's story, but… all I will say is that she's had a rough past and… well, Rosie came into my life during a time I didn't have much to live for. My daughter, she was kidnapped when she was a child and… *deep breath* Rosie gave me a second chance to be a father figure to someone. She may not believe it but… she saved my life, and I would do anything for her because of it. I apologize if I come off too strong, I just… care for her like a daughter.
Micah takes in his words; he's glad that Rosie was able to bring life and joy into someone's life the same way she did for him. It makes him just fall more in love with Rosie and pretending to be her boyfriend isn't so hard after all. He even blurts out something he hasn't mentioned to anyone yet, not even to himself.
Micah: I am in love with Roe– Rosie, and I'd also do anything for her.
Micah swallows hard; shit. He just admitted to the most important person in Rosie's life that he's in love with her. He's looking for an reaction out of Hudson, but he can't help the word vomit some more.
Micah: I– please don't say anything to Roe, I haven't said it to her yet and I don't know what I was thinking and–
Hudson: *laughs* Your secret's safe with me, kid. Thank you for loving her for who she truly is, a really awesome kid.
Micah smiles and eats a couple of more cookies. They both continue to talk some more, getting to know each other: man-to-man.