Dear, guys – welcome back to Letters From Liz!
Can you guys believe that in two days, it'll be Halloween? This month flew by and I'm not ready to dive into November and see all the damn Christmas decorations go up.
It was definitely an overall hard but good month for me. For personal reasons, my emotions were all over the place and it took some reflection time for me to settle in everything I was feeling and going through this month. For the most part, though, October was truly a good month for me, and sometimes my pessimistic self doesn't believe that I'm capable of having a generally good couple of weeks. 
So, without further ado – let's talk about some highlights of the month:
Highlights:
1.) Ya girl got her hair done!
I finally got myself some bleach in this hair and I'm gradually starting the process of going from black/dark brown to a medium brown/something lighter than my roots in all honesty. My sibling is currently a student at a beauty school and is currently working on the salon floor as practice and to build up clientele for the future. They asked if I was willing to come to the school and get some highlights in my hair since I was dying to lighten my hair in the first place. I'm a sucker for doing all sorts of shit to my hair, so I went and got my hair bleached and toned into highlights. I've been my sibling's test dummy for years regarding haircuts and hair color, and this was honestly one of the best times they ever did highlights on my hair. It was crazy natural, and it blends in with the rest of my hair!
2.) High-School Reunion with Nina (SparklyWarTanks)
This is a high-school photo of us, by the way. Although this event happened towards the end of September, I wanted to include it here because of the things that happened and discussed that day are some of the reasons why this month was so completely different for me. So, Nina was my best friend in high school. We were in the same vocal class as freshmen and we got closer as freshman year progressed. We became extremely close our sophomore year; we basically had every class together and we spent many of our days off singing at events under our school choir. If anyone has seen me grow from the little, innocent, naive prude into the rebellious all-over-the-place teenager, it was her. We were the same in a lot of areas of our lives, but we were two completely different people as well, which ultimately led to us drifting apart as high-school went on. College came and we went our separate ways, and we lost touch for those years we were busy with our college selves.
What brought us back together was the mutual passion of writing. She began her own blog as part of a senior school project, and I followed it since. In a way, her blog encouraged me to start my own, and the rest is history. As we began to support each other's passions through social media and through her events, she brought up the possibility of us hanging out one weekend and so we did. I can't lie and say I wasn't nervous; letting her back into my life meant that I was letting a part of my high-school self back as well, even if she wasn't the toxic part in my high-school life. That conversation we had for hours taught me a valuable lesson: I can hurt people too and I can be the cause of someone's bad mental health. I could be just as toxic for people as some people are for me, and it truly reminded me how much we've grown since we were teenagers. Of course, we did, we're 25 now, but to have honest conversations with someone you hurt and just discuss unspoken emotions we both felt made me appreciate life a little more that day.
So, if you're reading this Nina, thank you for teaching me a valuable lesson.
3.) I started a music podcast!
Sometimes, doing things out of pure curiosity and fun of it could be a good thing! Earlier this month, my good friend, Tori, was thinking about starting a podcast on her Patreon and I was all in for the idea. I'm not the most active podcast listener, but I know that people listen to them while they are working out, cooking, studying, trying to sleep; whatever type of multitasking thing there is to do. I mainly wanted to try it out because I've been doing nothing but listening to music to get me through the hardships that the month brought me. I wanted a platform where I could share my love for music, showcase the music, and even share my knowledge about the genre without typing it all out. So, I decided to test-run an episode with some of my favorite hits at the moment and found myself having so much fun with it. Music, especially now, is one of the major reasons how and why I'm happy at this moment (especially K-Pop) and I wanted to share it with other music-loving people in hopes that they adventure out into some genres and songs they never even heard of. In the time I'm writing this, two more episodes have been recorded and are pending for publication within the next couple of weeks, so be on the lookout for that!
Favorites:
1.) My First Physical Copy of a K-Pop Album:
If I was ever going to pop my K-Pop album cherry, it would be X1's 1st Mini Album, Quantum Leap. If you guys have been living under a rock or purposely been ignoring me because I'm always talking about them, you would know that I've been obsessed with X1 ever since they were officially put together during the summer under Produce X 101. If you want to know more about my thoughts about their debut when it first happened back in August, you already know there's a blog post about it. Not only was their debut such a strong one, but the whole album was also really good, so it was only right for me to get it when I had the extra money to purchase it. I ordered it directly from South Korea so the shipping was crazy expensive, but it was so totally worth having this album in my hands. It's funny, I showed my mother the album and the photobook that comes with it and was like "…this is what you're obsessed with?" And I proudly said yes. I told myself that while X1 is promoting, I'll be buying all their physical albums because I'm such a huge fan of them. So yeah. Thanks, X1, for popping my K-Pop physical album cherry. Ew, that sounds gross.
2.) Anything Seungyoun related.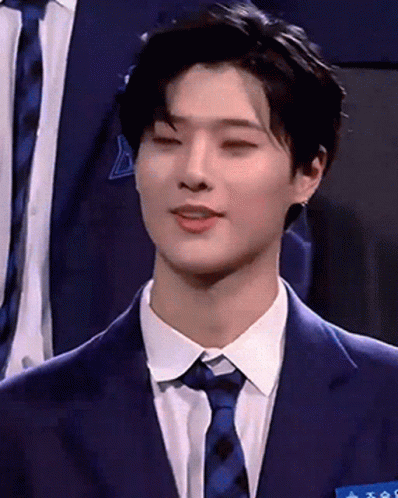 Cho Seungyoun (Hangul: 조승연) is a member of X1 obviously. Born in 1996, he is the second oldest behind Seungwoo, the leader of the group and occasional bias wrecker for sure. It's truly crazy to see how quickly things can change; on my ideal final-lineup for the group during PDX101, he wasn't even on my top 11 and yet I'm obsessed with him. It's not like I'm obsessed with him through his looks (yeah, he's good-looking af), but I'm obsessed with the many talents he has and the "all-rounder" title he holds within the group. He knows four languages, he sings, dances, raps, beatboxes, produces, writes, composes, like do I need to say more? He's a fucking monster.
Within X1, he is one of the four members in the group that had already debuted through their own respected companies and boy groups before joining the show for a second chance at success. Seungyoun started out as one of the members of the Chinese-Korean group, UNIQ. As one of the rappers and one of two members that are Korean, he was in charge of pretty much rewriting the lyrics to their songs in Korean so that their Korean audiences would know the songs in their languages. Mind you, homeboy was only 18 doing all of this. Their second single, "EOEO" is such a good fucking song; it's sexy, it's rap-heavy which I'm finding myself loving K-Rap a little bit more these days, and it's catchy!
He's also branched out of the group and began his own solo career, first under the stage name "Luizy" and later under the name "WOODZ". As "Luizy", his song entitled "Baby Ride (feat. Hyungsik of BTOB" is such a feel-good song. If you're already missing the summer (I'm not), this will definitely bring that summer-vibe back into your life! It's definitely a good song to listen to on a sunny breezy day on your way to school or work and it just feels like a good time. As "WOODZ" the musical genre is a lot more mellow, R&B and less rap-focused, and as mentioned in the first Music From Liz podcast, "DIFFERENT" hits you in the feels. It's also a very big mood-setting song; on a cloudy day with a slight drizzle of rain hitting the bus window; ugh the feels. The song is typically about a breakup of a couple because they were incompatible with one another. The music video is definitely aesthetically pleasing, artistic, and beautiful.
Honestly, that's all for now! See you guys in November!