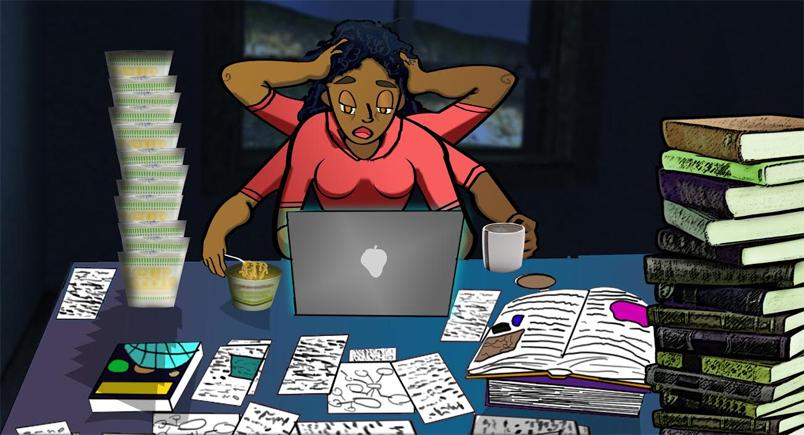 For some of us, classes begin in the next week. While most of us think we want to go back to school, some of us dread the stress that college brings into our everyday lives.
People deal with the stress of college in their own, unique ways. Some people wait to the end of the semester to get all of their papers and projects done, and other just stress 24/7 about the assignments. I'm definitely the latter.
With the stress of college, it's hard to balance out the other aspects of your life such as your social, financial, personal, and love life. Just because you're a full-time college student, it doesn't mean you can't have a life outside of it. I've known many people who ditched their social lives because of college, and as a young adult, doing that isn't the ideal thing to do.
I survived four years of undergrad studies, and now I'm shooting to survive my grad studies. Here's how I deal with the college stress that comes along every semester:
Time management is crucial. When you're taking four to five classes a week, sometimes it's hard to get everything done within that time-span. Professors love to think that a student is only taking their class and pile them with assignments to complete in a short period of time. When you're juggling five classes, with five different types of assignments to complete in a week, you don't know where to start or how to get everything done on time. To help you manage your time, get yourself a calendar where you can write down the things that are due and what days you want to do each assignment. During my first semester of grad school, I had two very demanding classes that required a lot of my hours, so I used my calendar to write what days I had certain assignments due as well as write what days I was going to work on those said assignments. While writing my 24-paged Master's Thesis, I chose one day out of the week for a total of five weeks to write at least 5 pages of the paper. It made my thought process a lot more organized and it was clear what I wanted to write about. Waiting to do something last-minute doesn't give you the time to truly indulge in your creativity and intelligence.
If you're not good under pressure, don't try to look for a part-time job.  During my second semester of my junior year, I decided to go for a part-time job at a theater production company during their show season. Due to my perfectionist qualities, I wanted to put my all in both school and my job, but it was simply impossible for me. After that, I decided to not look for a job while being in school; I wasn't built to do both. I commend those who balance both responsibilities, but if you are a person who cannot handle the pressure of balancing both school and a job, don't go for one. Yeah, having money is important, especially if your parents can't help support you completely, but some things you honestly need to let go, and the luxury of having/making money is something I had to let go in order to complete school.
Know your limits. This coincides with my previous post above, but you should always know your limits with school and how much you can do. If you can't do three classes a day for three days a week, go for two. If you can't take late-night classes, look for morning/afternoon ones. If you can't handle taking two literature classes at once (like me), then look into another concentration. Knowing your limit is extremely important to handle your stress; you already know beforehand what you can or cannot do, and you can plan ahead with those in mind. Keep in mind though that sometimes you have to test out the waters and see if you're able to handle it or not. My last semester of undergrad, I took three different English classes, and I thought I was going to die because of it. At the end of the semester, I ended up passing all of them with straight A's and landed a spot on the Dean's List. Anything is possible, you just have to try it out first.
Spontaneity doesn't exist in the college life. Plan, plan, plan!  Keeping up your social or love life while being a college student can be difficult sometimes; I sometimes feel guilty that I don't see everyone that I want to see because of the way I plan out my work days. (It's funny, Obie sent me on a guilt trip earlier on Monday on how I only see him once a week.) Luckily, I plan ahead in what I want to do with the people I want to see. If you have a day over the weekend that you have for yourself, make sure to plan ahead on what you want to do. If you have friends who are also college students, you sometimes can't expect them to be available when you are and ask them that day to hang out. Ask in advance and plan something. My "day-off day" during the semester are usually Saturdays, and I typically spend those days with my S/O because ya girl needs some TLC after a long, hard-working week. When you plan your outings in advance, it allows you plan around that on the days you want to work on school assignments.
The beginning of a semester can be scary, but try to relax. The worst thing that can possibly happen is that Amazon doesn't ship the textbook you need for your class fast enough to use it for the following lecture. Even in grad school, your first week is "syllabus week", which is just the class you can relax and get a feel of your professor and your classmates. Although in grad school, you automatically start working after the class introduction, it still isn't the end of the world. You will adapt to your surroundings and this class will feel like the many others that you took throughout your college career. Just relax and keep an open mind about things when starting a new semester.
Whether you're entering your first semester of college or your last, the college jitters exist for everyone. It seems like the work will be intense once you get your class syllabus, but ask yourself just how many times you said that about a class and it ended up being easy or just fine? The most important thing about college is being able to take care of yourself while taking care of your business. If you have experience simultaneously doing both during the semester, then you will be just fine.
I hope everyone has a great and successful semester! Cheers to the Spring 2017 semester!
-Liz (: