Hey, guys – welcome back to TNTH!
So, no one was going to tell me that I haven't posted a voiceless rant post for the month of May and now we are literally two days away from June? Crazy.
This month flew by, but then it didn't. It could be because I wrapped up my final semester and the first half of the month was literally me writing and writing and writing every single day before the last day of classes. In the gist of final papers and submitting my thesis (which passed!), I got the opportunity to speak about my thesis at my college's graduate conference. It was such a surreal feeling to stand in front of an audience (including my very supportive thesis advisor) and showcase what I've been working on for the last two years; it was seriously a great way to end my graduate career.
Speaking of finishing up grad school, I graduate in two days. I am still trying to let that sink in. It didn't feel real for awhile; I kept telling myself that something was going to hold me back from getting this Masters degree and that this wasn't going to be the end of my journey. But everything is stamped and ready to go. I'm graduating with my Masters degree in English. 
Two years felt like an eternity when I was just starting out. 2018 felt too far away for it to be only two years, but these last two years flew by. I just was graduating with my bachelors. I was just taking Professor Carlo's class in my first semester as a grad student. I just wrote that last final paper for her that I knew was going to be my thesis. I just met all of the people in my grad courses who were cool as hell. I just started grad school.
And I think that's what tripping me up: I struggled and worked my ass off for two years, and finally it is all over. I can't lie, I lost a lot of people to get where I am now, including my uncle who constantly told me how proud he was for me being the first in the family to get two degrees. I even lost a lot of myself in the process, and it's not easy trying to get parts of yourself back after feeling like you've been away for so long. I don't necessarily remember who I was before grad school, but I'm damn sure that I'll be finding who I am now as an actual human being than just one who is a student. I finally am going to be able to take care of myself in ways I wasn't able to do because of grad school, and that's honestly what's so bittersweet about this moment. I was able to get through such a hard time and place in my life, and I can finally breathe again.
I guess the overall meaning of this post is that don't let anyone, not even yourself, tell you that you can't do it. For months, it felt like I was never going to see the end of this journey because I was self-sabotaging; I really thought I wasn't going to make it. There were times I told myself I was dropping out because my mental health meant so much more than a piece of paper you get framed on your wall. But I didn't. My drive, my passion, and my responsibilities made me get where I am now, and I'm glad I got here to experience what it feels like seeing all of your hard work pay off. Staring at my Masters gown, decorating my cap, trying on my graduation outfit… nothing else beats the feeling.
Ten years ago, I couldn't imagine myself being where I'm at. As a 14-year-old teen, my next chapter was me going to high-school and pursuing my singing with other talented teens like me. As a 24-year-old young woman, my next chapter is me getting a better understanding of who I am, and hopefully getting hired at a job that reflects on the hard work I did to get here.
Here's to graduation, here's to a new chapter of life, and here's to everyone who may have self-doubts about doing whatever they want to do.
Come on and do it. (Yes, that is a Spice Girls reference.)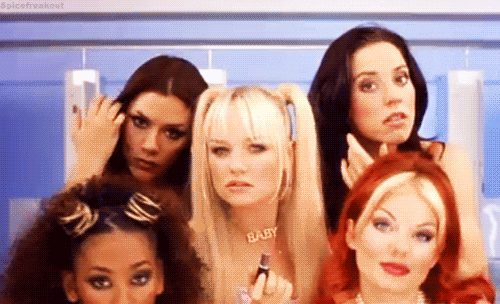 -Liz. (: